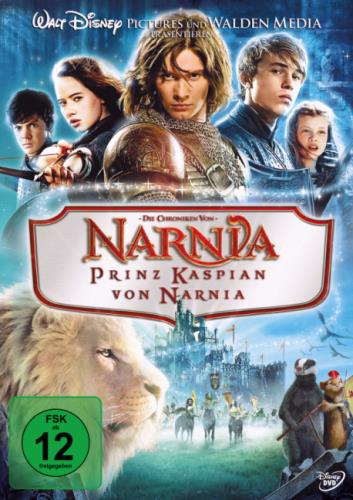 Die Chroniken von Narnia: Prinz Kaspian von Narnia
Regie: Andrew Adamson. Drehb.: Christopher Markus ... Kamera: Karl Walter Lindenlaub. Musik: Harry Gregson-Williams. Darst.: Ben Barnes ; William Moseley ; Georgie Henley ...
Material type:
 Visual material,

1 DVD ; 144 Min

.
Publisher:

München

Walt Disney Studios Home Entertainment

[2008]

,

ISBN:

871-7-418-17945-8.
Series:

˜Dieœ Chroniken von Narnia.
Original titles:
The Chronicles of Narnia: Prince Caspian dt.
Subject(s):

Jugendfilm | Fantasy | DVD
Classification:
DVD JS
Summary:

Nach über 1.300 Jahren kehren die 4 Pevensie-Geschwister nach Narnia zurück. Doch das goldene Königreich hat sich verändert: Der grausame Tyrann Miraz hat die Macht an sich gerissen und unterdrückt die Geschöpfe Narnias. Der rechtmäßige Thronfolger Prinz Kaspian muss sich vor den Schergen Miraz' verstecken. Gemeinsam mit den Geschwistern und seinem Volk macht er sich daran, seinen Thron zurückzuerobern ...Read more »
| Item type | Home library | Collection | Call number | Status | Date due | Barcode | Item holds |
| --- | --- | --- | --- | --- | --- | --- | --- |
| DVD | Bücherei Rohrbach | DVD JS | DVD JS 409 (Browse shelf) | Available | | 5000000077250 | |
Total holds: 0