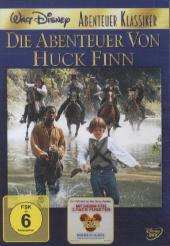 Die Abenteuer von Huck Finn
Regie und Drehb.: Stephen Sommers. Kamera: Janusz Kaminski. Musik: Bill Conti ... Darst.: Elijah Wood ; Courtney B. Vance ; Robbie Coltrane ...
Material type:
 Visual material,

1 DVD (103 Min.)

.
Publisher:

Walt Disney Home Edition

2012

,

ISBN:

871-7-418-35350-6.
Series:

Abenteuer Klassiker; Walt Disney.
Original titles:
The adventures of Huck Finn dt.
Subject(s):

Abenteuer | Literaturverfilmung | Kinderfilm | Spielfilm | DVD
Classification:
DVD JS
Summary:

Der Lausbub Huck Finn nimmt Reißaus vor seinem versoffenen Vater und begibt sich mit dem Farbigen Jim, der vor der Sklaverei fliehen will, per Floß auf den Mississippi. Gemeinsam überstehen die beiden zahlreiche Abenteuer, in deren Verlauf Huck lernt, daß die Hautfarbe keine Rückschlüsse auf den Charakter eines Menschen zuläßt ...Read more »
| Item type | Home library | Collection | Call number | Status | Date due | Barcode | Item holds |
| --- | --- | --- | --- | --- | --- | --- | --- |
| DVD | Stadtbibliothek Dornbirn | DVD JS | DVD JS Aben 8333 (Browse shelf) | Available | | 1000011782994 | |
Total holds: 0