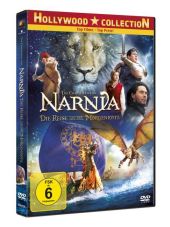 Die Chroniken von Narnia: Die Reise auf der Morgenröte & Prinz Kaspian von Narnia
Regie: Michael Apted. Drehb.: Christopher Markus ... Kamera: Dante Spinotti. Musik: David Arnold. Darst.: Georgie Henley ; Skandar Keynes ; Ben Barnes ...
Material type:
 Visual material,

1 DVD (145 Min.)

.
Publisher:

Frankfurt/Main

Twentieth Century Fox Home Entertainment

2011

,

ISBN:

401-0-232-05263-6.
Series:

˜Dieœ Chroniken von Narnia.
Original titles:
The Chronicles of Narnia: The voyage of the dawn treader & Prince Kaspian of Narnia dt.
Subject(s):

Literaturverfilmung | Kinderfilm | Fantasy | Spielfilm | DVD
Classification:
DVD JS
Summary:

Durch ein Gemälde gelangen die Geschwister Lucy und Edmund zusammen mit ihrem Cousin Eustachius erneut nach Narnia. Hiflos schwimmen sie in der rauen See, bis König Kaspian sie mit seinem Schiff Morgenröte rettet. Auch dieses Mal müssen die Geschwister eine gefährliche Mission erfüllen und Narnia vor einer Bedrohung retten. - Der 3. Teil des Narnia-Zyklus' nach den Büchern von C.S. Lewis ...Read more »
| Item type | Home library | Collection | Call number | Status | Date due | Barcode | Item holds |
| --- | --- | --- | --- | --- | --- | --- | --- |
| DVD | Bücherei Hatlerdorf | DVD JS | DVD JS Chro (Browse shelf) | Available | | 2000000159591 | |
Total holds: 0